(480) 797-3786
9109 S Hardy Drive
Tempe, AZ 85284
Map It
Computerized Engine Analysis
Your modern vehicle's engine is a highly sophisticated piece of equipment. Federal Exhaust Emission and Fuel Economy regulations demand that today's vehicles be equipped with electronic engine control systems, to curb carbon emissions and increase fuel efficiency. With technically-advanced control systems taking the place of simple engine components, common maintenance services are a thing of the past. Regular services (such as spark plug and filter replacements) are still required, as well as a computerized analysis of your vehicle's control computer. Our factory-trained technicians are here to provide these basic services.
Here's how your vehicle's computer operates:
Todays vehicles are quite complex. Government regulations ensure the cleanest burning engine allowable by todays standards. This is reached by a network of sensors all working together to achieve the cleanest and most efficient engines in history. As with any electrical component parts wear and fail. A check engine light points our ASE certified technicians in the area of the concern. With years of experience and training our techs are able to decipher if the problem exists with the sensor itself, the wiring driving the sensor or any other related issue ensuring a proper diagnosis the first time. This saves you both time and money on unnecessary repairs.
Here's a brief overview of your vehicle's sensory components:
Mass airflow sensor
Throttle position sensor
Manifold absolute pressure sensor
Coolant temperature sensor
Exhaust oxygen sensor
Crankshaft position sensor
Camshaft position sensor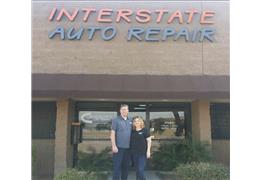 Hours & Location
| | |
| --- | --- |
| Monday | 7:30AM-5:30PM |
| Tuesday | 7:30AM-5:30PM |
| Wednesday | 7:30AM-5:30PM |
| Thursday | 7:30AM-5:30PM |
| Friday | 7:30AM-5:30PM |
| Saturday | Closed |
| Sunday | Closed |